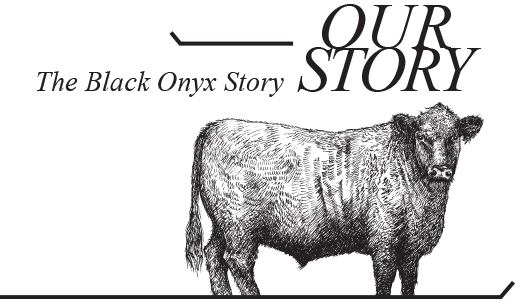 The Black Onyx story is a tale of Japanese quality Australian beef hightailing its way through the 80's, 90's and noughties to the success of today.
It all started with Marubeni back in 1988
Operating since 1856, Marubeni Corporation saw an opportunity to develop an Australian beef that would compete on the world stage, especially since at this time beef exports from Australia to Japan were liberalising. However, Marubeni knew that the Japanese market wouldn't be satisfied with importing just any old quality beef, they knew that this was an opportunity to create something very, very special.
Paying close attention to the environmental conditions that delivered the best beef in Japan, Marunbeni discovered that Rangers Valley had a latitude very close to that of the best feedlots in Japan. Rangers Valley Cattle Station rests at 29.45S while the island of Kyushu in southern Japan lies at 31.5N. It was a sign of promising times ahead.
The Korean beef market fully liberalized by 2001 and so it was time for a new name and an additional destination for this exceptional beef. The end of OBX300 saw the rise of the Homestead Range in Korea, and with trade bans on US beef by 2003, growth in Taiwan as well.
Between 2007 and 2009 it was all go for the Homestead Range. The brand extended to the US, Singapore, Indonesia, Hong Kong, China, UAE and Lebanon, while in its original market, Japan, it became known as NARUO.
With such exponential growth, and twenty years of breeding and feedlot experience, it was time to take a look at the formula for this incredible beef and ensure the very best delivery of it for years to come. The beef became exclusively Angus due to the superior performance of the breed in producing marbled beef and with studies showing no change to marbling, carcass size and flavour, the feed time became 270 days.
By 2013, the ever-increasing global demand for high end Australian beef and expanding range of products under the Rangers Valley brand meant only one thing for this brand….time for a big change - consolidation, streamlining and the development of a new, singular brand. A brand synonymous with quality, heritage and market relevance.
And so, Black Onyx was born.